Manufactured Housing, Multifamily, Self-Storage & Industrial Have Withstood Challenging Markets
Predicting which commercial real estate sectors will outperform others through the end of this decade is akin to throwing darts wearing a blindfold. Despite having a wealth of analytical data and the benefit of viewing historical performance through many different market cycles, it will always be challenging to forecast asset class performance well into the future.
Yet, certain sectors appear to have significant tailwinds today that suggest a positive outlook for stability over the next few years. And this optimistic perspective is based on more than just outperformance over the past decade or longer. Manufactured housing, multifamily, self-storage and industrial sectors are likely to continue benefiting from strong demand drivers.
Wait! Everything is Falling?
As you can see in this chart from research firm Green Street, the property types mentioned above have experienced strong valuation growth over the past seven years. However, you'll also notice all sector valuations declined in 2022, likely a result of the Federal Reserve's inflation-fighting interest rate increases. Rising interest rate environments typically put downward pressure on property values.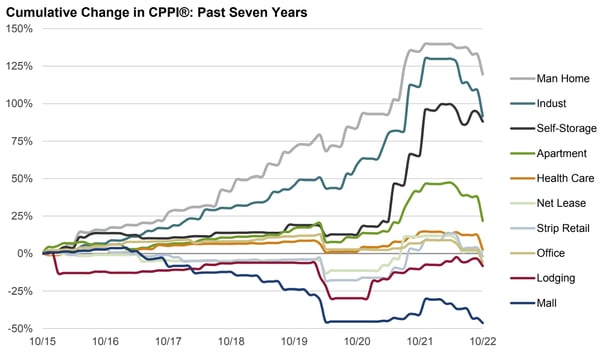 Source: Green Street's Commercial Property Price Index® is a time series of unleveraged U.S. commercial property values that captures the prices at which commercial real estate transactions are currently being negotiated and contracted.
Demand Drivers
Despite 2022 declines in property valuations, the top four sectors each have demand drivers which could position them well for continued performance. We take a snapshot view of each sector here.
Manufactured Housing
The ongoing housing shortage, stubborn inflation, rising rents, and concerns about a potential recession have many potential homeowners turning to manufactured housing as a more affordable alternative. A recent report from Marcus & Millichap noted,
"Strong property type fundamentals, such as consistently low vacancy and a recent trend of rent growth, have maintained investor confidence in the segment.1" - Marcus & Millichap
Multifamily
High demand and rapid rent growth marked the multifamily housing sector in the past few years. According to a Yardi Matrix survey of 140 markets, as noted in a Multi-Housing News article,
"The average U.S. asking rent rose 12.6% year-over-year through July 2022, while the national occupancy rate remained similarly strong at 96% for the fifth straight month."2
As more inventory comes online, rent growth will likely slow, which should help stabilize demand as more affordable rental properties will continue to meet the housing needs for this necessity-based asset class.
Self-Storage
The pandemic had compounding effects on the self-storage sector as family norms were disrupted entirely. Work-from-home restrictions, college students returning to the nest, and family migration from inner cities to the suburbs helped fuel strong rent growth and notable declines in vacancy rates. And while rising interest rates may have a dampening impact on the sector, the four D's (death, divorce, downsizing, and dislocation) are ever-present life events that support a healthy outlook.
Industrial
Industrial real estate has been a robust sector for several years, and demand is expected to continue. The explosive growth in e-commerce, just-in-case inventory for consumers, and a growing trend of reshoring production amidst global instability are factors that will likely sustain investor interest for some time.
Additional Insights
As you assist your clients in commercial real estate investing, staying abreast of market conditions influencing the performance of different asset classes is critically important. Find additional insights at Inland Advisor Solutions to help you stay informed on various sectors and view our current offerings on the Due Diligence Marketplace.

1https://www.globest.com/2022/10/20/housing-costs-shortage-are-tailwinds-for-manufactured-housing/
2https://www.multifamilyinsiders.com/multifamily-blogs/inflation-and-multifamily-real-estate-what-to-expect-for-2023
Past performance is not indicative of future performance.