Brick-and-mortar retailers have been struggling over the last several years as consumers have shifted more and more of their shopping to online providers. Now COVID-19 has dealt another blow to the sector, as many businesses have temporarily closed due to stay-at-home orders, resulting in the largest monthly retail sales decline on record, with a 16.4 percent drop from March 2020 to April 2020.(1)
The COVID-19 pandemic is forcing consumers to once again change the way they shop. Businesses have been categorized as "essential" or "non-essential", a label that is drastically impacting their ability to operate while social distancing and stay-at-home orders are being enforced. "Non-essential" businesses are generally defined as stores that trade in discretionary products (clothing, home furnishings, electronics, beauty) as opposed to essential products (food, pharmacies, cleaning supplies).
In general, essential businesses such as grocers and health and personal care stores have seen less disruption to operations and experienced the lowest decrease in sales from March 2020 to April 2020, with nearly 13 percent and 15 percent declines, respectively. Non-essential retailers such as clothing and accessory and electronic and appliance stores were impacted the most, as they were required to temporarily shut their doors. Sales growth for these categories declined 60 to 79 percent from March 2020 to April 2020.(1)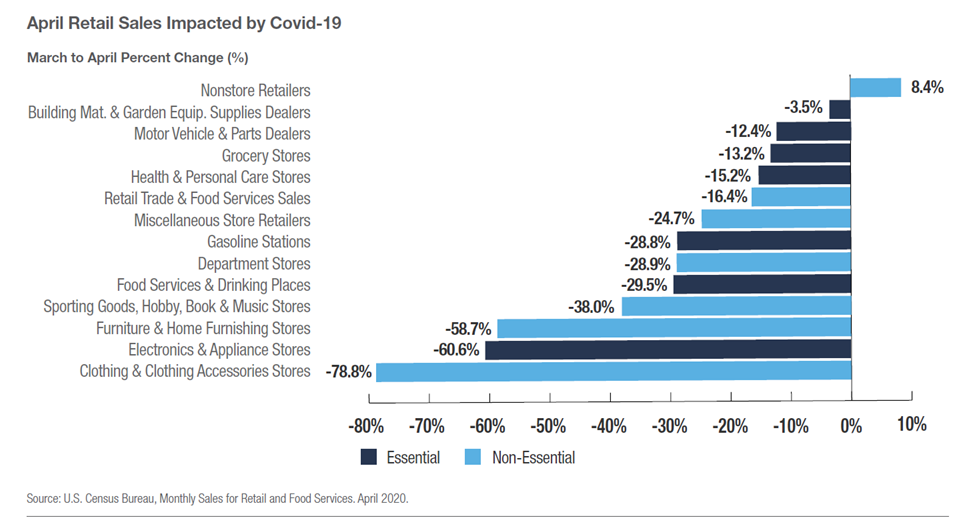 COVID-19 Takes Toll on Retail Tenants
The temporary closure of non-essential stores and the resulting economic downturn has had a major impact on brick-and-mortar retailers, leading tenants, landlords and lenders to search for rent and mortgage relief. U.S. retail landlords normally collect more than $20 billion in rent a month. As of April 17, 2020, about 51 percent of retail tenants had paid their April 2020 rent, compared to 85 percent that had paid their March 2020 rent.(2) With many retailers across the country closed since March, and nearly half of those stores in default on their April rent, retailers and landlords have tough decisions to make. To maintain occupancy, some landlords are negotiating rent payments with tenants, including delaying, reducing or forgiving payments. Others are postponing base rents for a few months and asking tenants to stay up to date on utility and tax expenses.
Social Distancing Pushing Consumers to Shop Online
Social distancing guidelines have caused retailers to implement changes in order to continue sales, including curbside pickups and a rapid shift to online shopping. Consumers are evolving and shopping online for all types of goods, including groceries, which historically has seen the slowest transition to digital sales. Prior to the COVID-19 pandemic, just four percent of grocery sales in the United States were transacted online in 2019.(3) Now, with social distancing measures being extended many families are trying digital grocery shopping services and apps for the first time. Google Trends reported that internet searches for the term "online grocery" reached its peak popularity the week of April 5-11, 2020.(4) Instacart, a popular on-demand grocery shopping app, announced that customer demand increased by 300 percent year-over-year, and that its community has grown from 200,000 to 350,000 active shoppers, and it is scaling customer and shopper support teams to meet demand.(5)
While social distancing has caused online shopping to surge, consumers are not spending the way they used to. The Commerce Department reported that consumer spending fell 7.5 percent in March 2020, its steepest monthly decline on record since 1959 as economic activity has ceased amid the coronavirus pandemic.(6)
The New Normal for Retail
Experts believe that while retail will return to "normal" once COVID-19 fades, it will be a new kind of normal. Although it is too soon to tell what that new normal will mean for businesses, people are expected to be much more cautious of their surroundings. In some parts of the United States, stay-at-home orders were lifted on May 1, 2020 and non-essential businesses were able to resume operations under strict, new rules. While rules will vary by state, many retailers that are reopening have taken on many new measures to protect shoppers and staff including re-configuring store layouts, limiting occupancies, strategically placing signage, increasing sanitization procedures and requiring staff to wear masks. The big question still remaining – will social distancing, limits on store occupancy, and one-way systems and markings on the floor be part of the new normal? Only time will tell.
---
Sources:
Disclosure:
The views expressed herein are subject to change based upon economic, real estate and other market conditions. These views should not be relied upon for investment advice. Any forward-looking statements are based on information currently available to us and are subject to a number of known and unknown risks, uncertainties and factors which may cause actual results, performance or achievements to be materially different from any future results, performance or achievements expressed or implied by these forward-looking statements.
Important Risk Factors to Consider
Investments in real estate assets are subject to varying degrees of risk and are relatively illiquid. Several factors may adversely affect the financial condition, operating results and value of real estate assets. These factors include, but are not limited to:
changes in national, regional and local economic conditions, such as inflation and interest rate fluctuations;
local property supply and demand conditions;
ability to collect rent from tenants;
vacancies or ability to lease on favorable terms;
increases in operating costs, including insurance premiums, utilities and real estate taxes;
federal, state or local laws and regulations;
changing market demographics;
economic risks associated with a fluctuating U.S. and world economy, including those resulting from the novel coronavirus and resulting pandemic;
changes in availability and costs of financing; and
acts of nature, such as hurricanes, earthquakes, tornadoes or floods