Digitally Savvy Financial Professionals are Optimizing Local Search to Grow Their Practices
Many financial professionals still hold on to the belief that growing one's practice is best achieved by referrals, yet few would disagree that it has been more challenging in 2020 to earn referrals with prospects being unable or hesitant to meet in person.This is where online prospecting fills a gap for financial professionals eager to find new clients. Utilizing a Search Engine Optimization (SEO) strategy may be the most important aspect when working to accomplish this objective. Here is why.
SEO has been described by one online journal as:
The process of optimizing a website – as well as all the content on that website – so it will appear in prominent positions in the organic results of search engines. - Search Engine Journal
Sounds simple, right? Unfortunately, it's not. SEO is both an art and a science. To effectively execute an SEO strategy within a practice requires knowledge of search engine algorithms, the concept of keywords and the importance of timely and relevant content that draws the right types of prospects to one's site.
Let's look at some local SEO tactics financial professionals are using to reach new prospects who are searching online for answers to financial questions.
What is Local SEO?
Quite simply, local SEO is a strategy that positions financial professionals to be more visible to search queries in the general area. For those looking to grow their clientele, local SEO is often a valuable area to focus on. Just consider:
Every month, there are on average, 33,100 searches for "financial advisors near me." 46% of all searches on Google are local." - Hubspot Marketing Blog
An SEO strategy not optimized for local search, only enables financial professionals to reach slightly more than half the potential audience. Following are three actions to get started.
Optimize for Google's "Local 3-Pack"
Ever wondered how the names of certain businesses show up next to a map in a typical Google search? Many may assume those businesses have paid for the privilege, however that is not the case. This incredibly valuable piece of search "real estate" near the top of Google's page 1 rankings is called the 3-pack, and it serves up what Google deems as the most relevant responses to a searcher's query and location.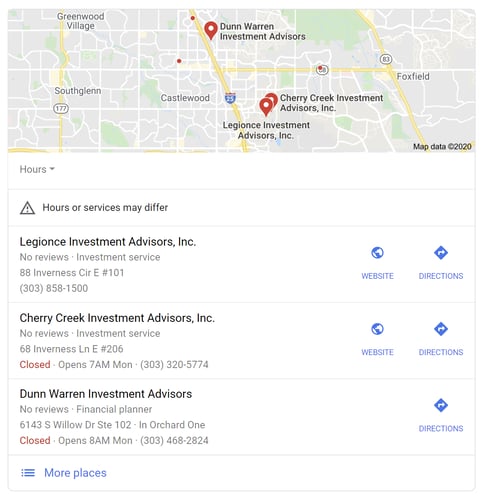 Optimizing your local SEO so that your business is selected in the 3 pack requires some work, but it is well worth it. Follow these four steps and you will be well on your way:
Claim your "Google My Business" profile, optimize it with valuable information about your business, and begin to ask for (and respond to) customer reviews.
Ensure your website is optimized with relevant content that presents opportunities for visibility in organic searches. Make sure to frequently add new, quality and timely content.
Nurture your "Google My Business" profile by adding new photos frequently. According to Google, businesses with photos receive 35% more click-thoughs to a website than those without.
Ensure your website is using standardized metadata, specifically for Name, Address and Phone (NAP). This allows Google to readily understand this important business information.
Optimize Title and Meta Descriptions
It is easy to overlook this part of SEO strategy because the information does not appear on a website page. But to search engines, title and meta descriptions are vital for potential customers viewing a website's listing as it appears on a search engine results page. It is the first thing they read about a business!
To make the most of the title and meta descriptions, be sure that the information is concise, descriptive and an accurate representation of the firm and/or services. Also, to optimize for local search, reference the geographical area you serve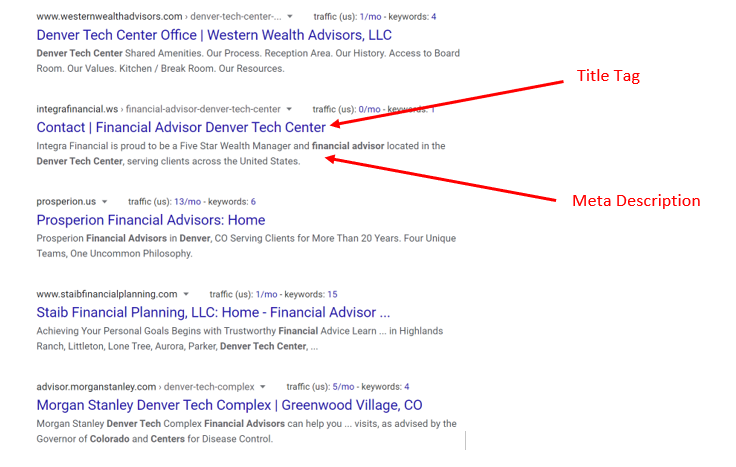 Create Great Content and Publish Often
The phrase, "content is King," may be overused, but it still accurately represents one the most central aspects of organic search. Simply, content that is timely and relevant to a searcher's need is far more likely to appear at the top of a search engine results page.
Creating content is often a challenge for financial professionals who are faced with many competing priorities including managing existing clients and prospecting for new clients. Content, however, is a powerful prospecting tool. When you create and deliver content on a regular basis, a search engine can become your ally, displaying it prominently when it best meets the needs and intent of a prospect's search query.
Many financial professionals find that blogging – writing and posting an article or two each month – is a good place to start. When blog posts strategically use keywords and key phrases, including local references, it will appear even more valuable in local prospect search queries.
If you'd like to learn more about local SEO or how to incorporate other digital strategies into your own practice to help grow your business, visit https://inlandadvisorsolutions.com/ and register for The Inland Academy.