Progression of industrial properties is expected to continue through year-end 2020.
August 27, 2020
The National Bureau of Economic Research declared the U.S. in recession as of February 2020, after 128 months of continuous economic expansion.1 Amidst the current pandemic, which resulted in various restrictions, some commercial real estate sectors still found ways to continue moving businesses forward. While temporary, the length and ultimate magnitude of the pandemic's effects are unfortunately uncertain and multiple aspects of the economy, including commercial real estate, are expected to be negatively affected by the pandemic. However, up until now, the industrial sector is showing minimal negative impact, especially in warehousing, which is comprised of several different property types including2:
| | |
| --- | --- |
| Industrial Property Type | Property Description |
| Distribution warehouses | Warehouse and fulfillment centers used to ship products |
| General purpose warehouses | Industrial spaces geared toward storage and general business activity rather than distribution |
| Manufacturing | Spaces leveraged to make heavy duty goods and materials |
| Light assembly | Areas where products are assembled and stored until shipped |
| Truck terminals | Facilities with dock doors dedicated to moving goods from one truck or location to another |
| R&D/Flex | Versatile building type that can provide for a broad range of uses such as creation of new and improvement of existing products/processes |
| Data centers | Highly specialized industrial buildings located in close proximity to major communication lines with access to power supplies and are capable of powering extensive computer services or telecom equipment |
| Showrooms | Facilities that combine retail display space with onsite storage, distribution and minimal office space |
Growing Demand for Industrial Sector
Due to shifting consumer preferences and increased online shopping, which has been enhanced by non-essential business closures and stay-at-home guidelines put into place to control the spread of the coronavirus, growth and adoption rates of e-commerce have accelerated causing a direct impact on industrial real estate.3 Supply chains have been required to make adjustments to accommodate the increase in online shopping, leading to increased demand for warehouse and storage space. Warehouse space is needed to store products and goods, fulfill online orders and enable enhanced distribution procedures or racking systems needed to keep up with heightened consumer demand. As the demand for online retail amplifies, expected to reach 14.8 percent of retail sales by 2023, the number of product returns may also increase, requiring more industrial space. Consumers are three times more likely to return products they bought online versus those they bought at a retail store and online retailers need 20 percent more space to manage order returns compared to normal sales.1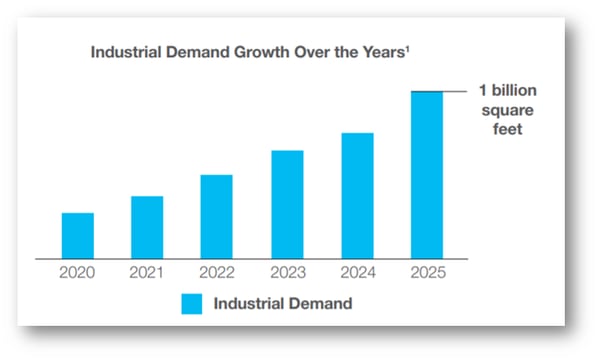 E-commerce has been a game changer for supply chain management since the emergence of the internet and its influence on consumers' purchase expectations and delivery of product orders. Online retail sales hit $602 billion in the U.S. at the end of 2019 and Jones Lang LaSalle (JLL) expects sales to grow by 20 percent in 2020, resulting in approximately $1.5 trillion by 2025.
3
According to JLL, given the growth of e-commerce, the industrial sector is expected to experience a demand for an additional one billion square feet of space over the next five years.
3
Historically, 35 percent of warehouse space has been leased to e-commerce related services, such as fulfillment centers, but with the dramatic increase in online orders, as much as 50 percent of industrial leasing through the second quarter of 2020 has been dedicated to warehouses for e-commerce.3 One of the fastest growing e-commerce businesses is grocery shopping, an industry previously protected from the internet because people have tended to shop for groceries in person. Consumers are now taking measures to stay safe and are experimenting with online shopping, whether for groceries or other personal items. Most consumers are finding it to be quite simple and are typically receiving their goods within two days without additional shipping charges, resulting in the expectation that the growth of online shopping will continue post-pandemic. Specifically, cold storage space, generally used for groceries, is expected to grow as much as 100 million square feet by 2025 to keep up with this new demand.3
Industrial Growth
Industrial properties, primarily warehouses, will continue to see an uptick in demand for these types of spaces. Retail sales dropped by 16.4 percent back in April 2020, which only helped spike the online sales and continue to do so. E-commerce companies need 1.2 million square feet of distribution space for each $1 billion in sales.4 New supply of industrial space reached 82.1 million square feet (MSF) in the second quarter of 2020, a significant increase from the 64.3 MSF of new supply reported in the second quarter of 2019, with vacancy rates remaining tight. Absorption levels of industrial space came in at 89.8 MSF at the end of the second quarter, which is slightly down from last year, however, experts say absorption is expected to remain positive as we head into third quarter and beyond.5 As more warehouse and distribution space is needed to fulfill the demand, it is comforting to know that industrial buildings are not complex architectural structures and relatively require simple dimensions and few windows with less stringent building codes therefore they tend to be constructed faster. The structural simplicity of these types of buildings also allows for quick repurposing when needed.6

---
Sources:
[1],[3] JLL Position paper, Summer 2020, Industrial real estate demand on the rise in the U.S.
[2] http://lacre.net/wp/types-of-industrial-properties-explained/779/
[4] CNBC. com. US may need another 1 billion square feet of warehouse space by 2025 as e-commerce booms. July 9, 2020.`
[5] Cushman & Wakefield, U.S. National Report, Industrial Q2 2020.
[6] Moody's Analytics. Why Industrial (Warehouse) is Likely to Fare Better. June 17, 2020
---
Disclosure
The views expressed herein are subject to change based upon economic, real estate and other market conditions. These views should not be relied upon for investment advice. Any forward-looking statements are based on information currently available to us and are subject to a number of known and unknown risks, uncertainties and factors which may cause actual results, performance or achievements to be materially different from any future results, performance or achievements expressed or implied by these forward-looking statements.
---
Important Risk Factors to Consider
Investments in real estate assets are subject to varying degrees of risk and are relatively illiquid. Several factors may adversely affect the financial condition, operating results and value of real estate assets. These factors include, but are not limited to:
changes in national, regional and local economic conditions, such as inflation and interest rate fluctuations;
local property supply and demand conditions;
ability to collect rent from tenants;
vacancies or ability to lease on favorable terms;
increases in operating costs, including insurance premiums, utilities and real estate taxes;
federal, state or local laws and regulations;
changing market demographics;
economic risks associated with a fluctuating U.S. and world economy;
changes in availability and costs of financing; and
acts of nature, such as hurricanes, earthquakes, tornadoes or floods