The multifamily housing sector has experienced robust demand over the last decade but is expected to feel the impact of the COVID-19 pandemic. Tenants may struggle to pay rents due to rising unemployment claims in the United States, among other factors.
On the surface, March 2020 appeared to be a normal month for the multifamily sector with rents growing 2.9 percent on a year-over-year basis and increasing $6 from February 2020.[1] However, as the month progressed, COVID-19 tightened its grip on the U.S. economy and has hit the U.S. job market hard, with more than 30.3 million first-time unemployment claims since March 21, 2020[2]. When it comes to paying for housing, household renters are most vulnerable, as renter median household incomes historically are disproportionately lower than those of homeowners, and renters may lack resources to overcome missed paychecks.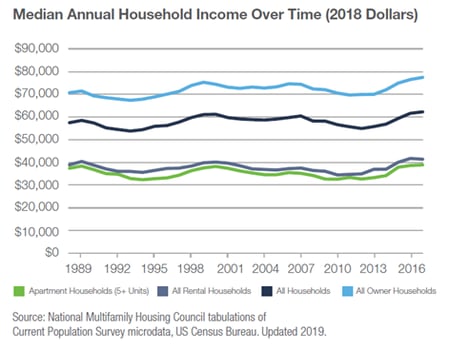 The positive news as of April, 2020 is that many multifamily renters were still paying rent. A recent National Multifamily Housing Council survey found that 84 percent of apartment households made a full or partial rent payment by April 12, 2020, up 15 percentage points from April 5, 2020.[3] The uncertainty of the pandemic remains unsettling, as the potential for stay-at-home order extensions, increasing unemployment and decreasing renters' savings are requiring landlords and operators to navigate potential late payments and rent forbearance. Governments at the federal, state and local levels have rolled out moratoriums on eviction and are requiring rent flexibility and forbearance.
The Coronavirus Aid, Relief, and Economic Security Act, also known as the CARES Act, was signed into law on March 27, 2020, and provided over $2 trillion in economic relief to provide fast and direct economic assistance for American workers and families, small businesses, with the goal of preserving jobs for American industries. The CARES Act provides expanded unemployment benefits and a one-time stimulus payment to qualifying Americans, which is expected to alleviate some of the strain that multifamily residents may be facing.
Another important policy outlined in the CARES Act provides forbearance of residential mortgage loan payments for multifamily properties with federally backed loans that are experiencing a financial hardship during the COVID-19 emergency. It is no surprise that multifamily borrowers (more than 5 units) may struggle to satisfy their own financial obligations to operate properties, as they are directly affected when tenants face job loss or furloughs and are unable to fulfill rent obligations. This policy also includes renter protections during the forbearance period, which can be as short as 30 days, or extended for up to two 30-day periods upon request by the borrower. During that time, multifamily borrowers may not evict any tenant based on failure to pay rent.[4]
While there are programs in place to assist multifamily renters, borrowers and operators, the bottom lines for apartment owners and operators are expected to be impacted as planned rent increases and value-add projects may be postponed.
Once we return to a more stable environment, multifamily is expected to retain its position as a preferred asset class, as an estimated 35 percent of U.S. households rent.[5] The pandemic has yet to change these fundamentals, as young professionals who were considering purchasing a home are likely delaying that decision for now; however CBRE projects that multifamily fundamentals will take a sharp downturn before rebounding at the beginning of Q4 2020. CBRE projects that overall vacancies will rise 2.7 percent to 6.3 percent by Q3 2020, compared to 3.6 percent in Q3 2019. Average rents are projected to drop 6.7 percent to $1,603 in Q4 2020 compared to $1,717 in Q3 2019.[6] But average rents are expected to recover through 2021, and CBRE expects to see them back at pre-COVID-19 rates by the middle of 2022.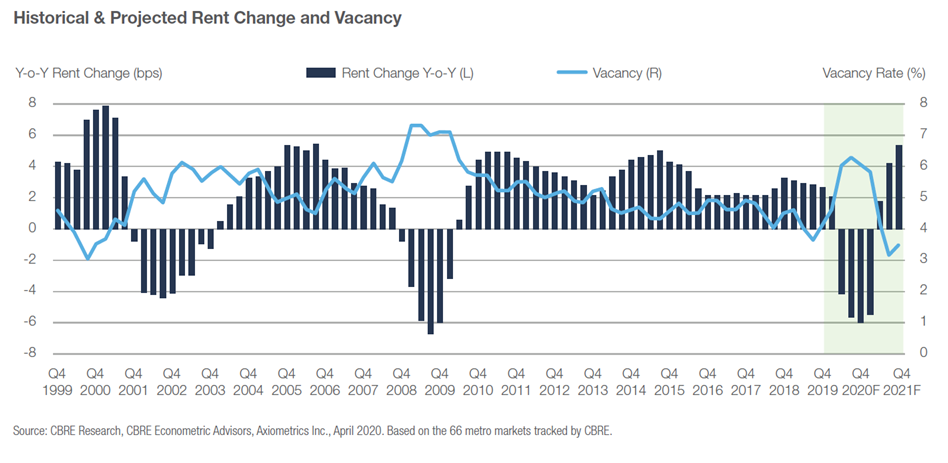 ---
Sources:
[1] Yardi National Multifamily Report. March 2020.
[2] https://www.cnn.com/2020/04/30/economy/unemployment-benefits-coronavirus
[3] National Multifamily Housing Council Survey, as reported by Connect. https://www.connect.media/apartment-rent-rolls-post-major-improvement-in-nmhcs-second-weekly-survey/ April 16, 2020.
[4] NCLC.org. Sec. 4023. Forbearance of residential mortgage loan payments for multifamily properties with federally backed loans. March 26, 2020.
[5] US Census Bureau. Quarterly Residential Vacancies and Homeownership, Q1 2020. April 28, 2020.
[6] https://www.cbre.us/research-and-reports/US-MarketFlash-Multifamily-Market-Outlook-Rebound-to-Begin-in-Q4-2020
---
Disclosure
The views expressed herein are subject to change based upon economic, real estate and other market conditions. These views should not be relied upon for investment advice. Any forward-looking statements are based on information currently available to us and are subject to a number of known and unknown risks, uncertainties and factors which may cause actual results, performance or achievements to be materially different from any future results, performance or achievements expressed or implied by these forward-looking statements.
---
Important Risk Factors to Consider
Investments in real estate assets are subject to varying degrees of risk and are relatively illiquid. Several factors may adversely affect the financial condition, operating results and value of real estate assets. These factors include, but are not limited to:
changes in national, regional and local economic conditions, such as inflation and interest rate fluctuations;
local property supply and demand conditions;
ability to collect rent from tenants;
vacancies or ability to lease on favorable terms;
increases in operating costs, including insurance premiums, utilities and real estate taxes;
federal, state or local laws and regulations;
changing market demographics;
economic risks associated with a fluctuating U.S. and world economy;
changes in availability and costs of financing; and
acts of nature, such as hurricanes, earthquakes, tornadoes or floods