Despite ongoing economic uncertainty, inflationary pressures, and a high interest rate environment, two subsectors of healthcare real estate - medical office buildings and senior housing – have the characteristics we believe make strong and resilient subsectors, especially in challenging market cycles.
Medical Office Buildings (MOBs)
MOBs are office facilities designed for health care providers, including doctors, dentists, and other clinicians. These buildings can include physical therapy facilities, diagnostic imaging rooms, and a variety of other services.
Medical office buildings made up the largest portion of healthcare real estate transactions in 2022 at 58 percent, and saw an increase in new construction starts in 2022 of nearly 3 million square feet over 2021.1
MOB fundamentals continue to be healthy in today's market environment, making it an attractive recession-resilient asset class compared to other core real estate sectors. With the high cost of building a ground-up medical office space, most medical office tenants tend to remain in the same space for a long period of time2, providing stable occupancy and the opportunity to increase rents regularly.
Medical office building demand remains high and is expected to grow, driven by an aging population. As of 2020, more than 1-in-6 Americans, or 55.7 million people, were 65 or older and it's predicted that by 2040, nearly 81 million Americans will be of retirement age.3 And, according to Marcus & Millichap, those age 65 and older will have, on average, between 4 and 7 healthcare visits each year4 – meaning that this cohort of aging adults will be seeking more convenient and accessible medical services than traditional hospitals, fueling future demand for this asset class.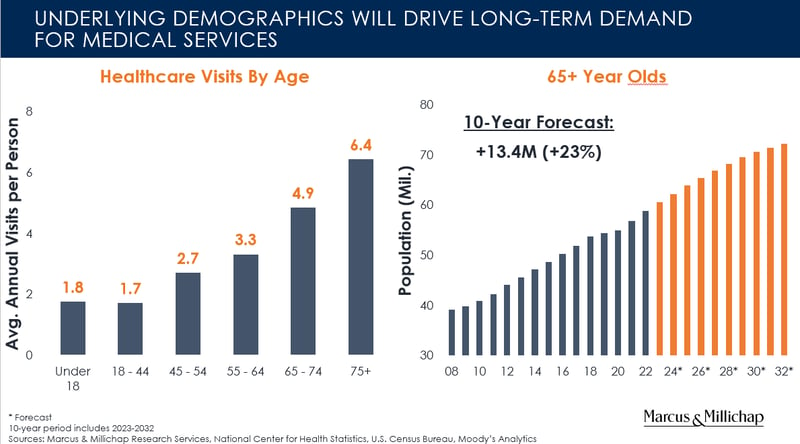 Senior Housing Facilities
Senior housing is considered a necessity-based industry. The sector is comprised of four distinct types of housing and services: Independent Living, Assisted Living, Memory Care, and CCRCs (Continuous Care Retirement Communities, which offer a continuum of care and provide all three services).
We believe senior housing properties are well positioned for future growth, as 2022 marked the largest number of occupied units in history5 a testament to the need for the care-based services these facilities provide. A decline in new developments and a returning demand from an aging population6 are positive fundamentals that may continue to drive high occupancy rates and rent growth.
As occupancy rates increase, rent growth accelerates, as illustrated here by the rebound in rents across all senior housing subsectors from the lows of the pandemic. Rent growth at all but CCRCs eclipsed 4.5 percent.4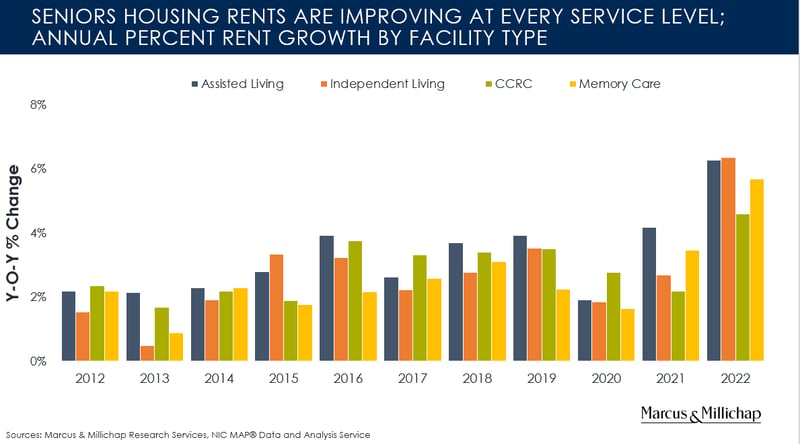 Demand fueling the senior housing sector includes a host of resident preferences, such as the desire for simplified living, social engagement, hospitality, and the care they'll need. We believe that the aging baby boomer generation will drive demand for more facilities.
Senior housing facilities become essential when options like aging-in-place or having a family member provide one's housing care needs are not viable. This is another reason why the sector is often unphased by the economic environment at any given time.
1. Revistamed. Custom Report. March 2023
2. https://alliancecgc.com/education/competition-in-medical-office-real-estate/
3. https://www.washingtonpost.com/wellness/2023/02/14/aging-boomers-more-older-americans/
4. Marcus & Millichap. Custom Charts. May 2023
5. Senior Housing News. Senior Living Occupancy Reaches over 83% in Q4 as Industry Sees Most-Ever Occupied Units. January 2023.
6. Marcus & Millichap. Senior Housing National Report. 1H/23. Accessed April 2023.